We were invited to go to a friend's 10th anniversary camping party with their family and friends the last weekend in June way back in September when the spots were open for registering a spot.  We registered for all four days; Friday-Tuesday and kept having to cross our fingers that the school date changes due to snow wouldn't affect trek.  They did though.  We ended up having to adjust our camping reservations and drive home on Sunday instead so we could start the Trek on Monday.  It all worked out.
We left early Friday morning to go to the Washington Coast.  Cape Disappointment is just on the Washington side across the Columbia River from Astoria, Oregon.  Although we had been to Astoria several times since we got married, we hadn't been to Cape Disappointment.  And we weren't disappointed.
On the way there, we came to a standstill and waited for probably 20 minutes at a stop along the highway.  Eventually a police car, firetruck, and then two ambulances came past.  We decided to turn around and try to find another way to where we needed to be.  We couldn't find the right turn off and turned around again and got back in the standstill line on the highway much further back from where we were initially.  We discovered later that we had passed the turn off we had been looking for and took it and never did quite figure out what had happened ahead of where we had stopped.  This ended up adding at least an hour to our trip.
We played some car games, MadLibs, Alphabet Animals (like if the first person says, "alligator", the next says an animal that starts with the letter B and it continues), and Alphabet Train where if you start you say a word like "Coast" and the next person has to start their word with the letter T and so on.  This was really good for Abby especially to be able to sound them out, figure out which letter it was, and then think of the right thing to say.  We also played a guess-the-character game the way you'd play 20 questions.  So one person thinks of a character and then tells us to start asking questions.  We can ask if it's a cartoon character, from a tv show, movie, color of the character, if they are in more than one episode, etc.  Pretty fun.
The car was LOADED (actually I finished packing for trek Monday and packed and loaded the car Tuesday with everything I could for the coast so we could relax a little the rest of the week.)  Elizabeth is back there next to the pile of stuff.
We were stopped next to this pretty flower some of the time as we waited for the accident.
When we got to the coast we unpacked into our Yurt we rented (permanent tent with wood floors, a high ceiling, heat, electricity, and lighting, plus a twin/full bunkbed and a full futon).  Elizabeth opted to not share a bed, so Olivia and Abby shared the top bunk twin and Vincent slept on the futon still in couch shape.  We brought a foam mat for Elizabeth to sleep on the floor (her choice). Some people brought their trailers, others brought tents, we had our yurt, and my friend's parents stayed at a B&B close by (it's their anniversary too!)
We headed over to our friend's trailer spot to see if they needed help with dinner (we were eating all the meals there together), but they were still waiting on the chili for the fritos-banditos to get there in his parent's car, so we headed down to the beach to check it out.
The kids played in the little circular driveway that was separate from the main road that was shared by each set of ten campsites.
Ready to play at the beach!  (Elizabeth opted to stay in the yurt and draw.  She's working on some projects.)
Found some tide pools to play in.
So, so sad that this picture turned out blurry… =(
View of the lighthouse from the beach.  It's actually under construction right now so we couldn't go inside.
Some of the tidepools were pretty deep!
Abby found some pretty shells she needed to save.
Abby and two friends to play with.
Me and my buddy Ally.  So glad they invited us to go on this campout with them.  We had a good time hanging out with them and their family and other friends.
The next day we had breakfast with our friends (bagel sandwiches-egg, canadian bacon, cheese and fruit to eat) and then our family headed out to do a little bit of touristing.  We visited the Astoria Tower and the Cape Disappointment Lighthouse (and Fred Meyer, but that's hardly a tourist visit).
Vincent at breakfast.
Abby helping walk our friend's dog around with her buddy.
Abby found some wildflowers to share.
Olivia ready to go!  The sooner we could finish errands and tourist visits, the sooner she could play at the beach!
Vincent waiting for us outside the yurt.
Vincent, Abby, and Luke checking out the yurt from the screen window on the side.

Vincent by the yurt.
Astoria Column.  There are 164 stairs in a spiral staircase inside that leads up to a small overlook at the top.  We all climbed it and the kids tossed a little balsa wood airplane (purchased for $1 at the gift shop) from the top. There are different main parts of the area's history wrapped on a mural all around the column.
This is what it looked like from the top.  To the left of the walkway, by the man in the red shirt, is one of our planes flying down.
Abby, Elizabeth, Vincent, and Olivia at the top.
Andy and I at the top of the Astoria Tower.
This photograph looks like a painting to me.  Beautiful view!!!
A little depiction of what the inside looks like.  That's a LOT of stairs!
Photo of the HUGE bridge connecting this part of Oregon to Washington. You can hardly even see that on the far side there's another big bridge closer to Washington.  We liked going over this.  Our friend's mom said she didn't know what she was going to do because she might have to stay at the campsite and have her husband visit her there because the bridge freaked her out so much.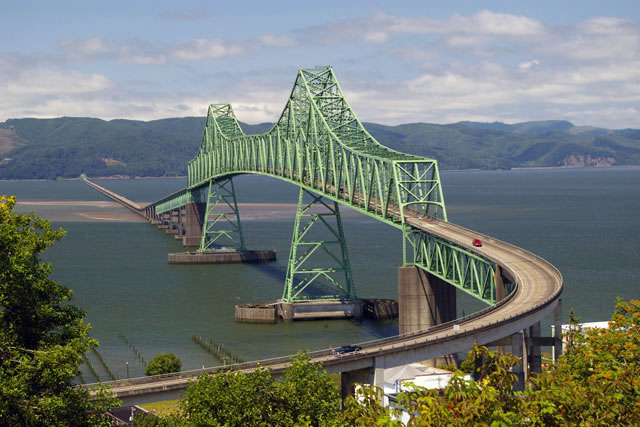 Love to see the ships and barges in the river!
We hiked over to the Cape Disappointment Lighthouse after we got back to Washington.  Had a little photo op there too.
Elizabeth was our photographer most of the day.  She took this picture of all of us except for her close to the lighthouse.
And a little snapshot of Elizabeth with Vincent.
And all of our kids together!
Another shot of us on a bench.
We stopped by a gift shop at the lighthouse and there was a bird's nest with baby birds to peek at.  So tiny and cute.
We got back in time for sandwiches for lunch and went to the beach again.  We forgot to pack sunscreen but didn't notice until after we had already gone to the store, so we skipped it.  I got a bad sunburn on my chest… and because of the wind pulling my shirt collar, it's not even even.
These three most wanted to play in the waves.  Andy and Elizabeth went out exploring by the jetty for a bit.
Vincent at the ocean.
Abby posing by the ocean.
Olivia LOVES the water at the ocean!
Abby wrote her name in the sand.
And Abby flew her kite for a little bit.  The wind was CRAZY strong!
Vincent and Olivia jumping waves.
When Olivia got bored of jumping waves, she sat down and let them come to her.
Vincent flying his kite.
We walked down to another part of the beach and ran into Andy who got back from the jetty.  He kept Vincent with him because Vincent wasn't done playing on the beach yet and I took both girls back to the yurt to change.
Some of the group playing games in the afternoon.
Ally and Jason with the crabs they bought.  Happy 10th Anniversary!
Ally made some Red Lobster cheddar biscuits.  They were delicious!
Abby 'started' the fire.
Abby sweet-talked Ally's brother who gave her a clam to try.  She ate it and saved the shell.  She didn't like it much though.

Vincent tried the crab meat.  He wanted to try the clams, but they were already gone by then.
Vincent liked the crab meat.  Saturday evening was the planned big dinner crab dinner.  Most of the people (30!) went and bought some crabs locally to bring back to cook.  We opted to just eat the side dishes for dinner since we don't like seafood.
It was great to go camping with one of my best friends!  We always have a good time together.
The whole group who was there on Saturday night.  SO much fun!
Andy and I headed down to the beach to watch the sun set.  It was beautiful!
There were some thin clouds on the horizon distorting the sun, but I thought it looked really cool.
Gorgeous waves!
And after the sun set, it was still so pretty!
When we got back to the campsite (we left our kids there with our friends) they had added some vitamins to the fire to make fun colored flames.
Sunday morning we packed up our yurt and stopped by our friend's place for breakfast. We had pancakes, bacon, and eggs with hot chocolate for breakfast before heading out for home.
When we got home we took all the camping stuff out of the car and immediately reloaded it with all of the trek stuff that I had set aside ready to go.  I went over to my neighbor across the street who was outside watching this to explain a little why we were reloading as soon as we got home and chatted for a bit about what the trek is and why we are doing it along with a 'pray for me. it's supposed to be 107 degrees Monday…' and I mentioned my sunburn and showed it to her.  She came over a few minutes later with some miracle cream that took all of the sting of the sunburn right out and made me comfortable again.  I am going to need to buy some of that.  I used it twice on Sunday night and once Monday morning and didn't need it again!
Our friends are thinking about making this an annual tradition.  Sounds fun to us, but we'll see if it works on years we have family reunions.  This year is an odd no reunion year so this was pretty much our only summer trip.
---
One response to "
Cape Disappointment

"